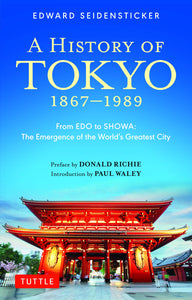 Tanabata
A history of Tokyo
HR521
 1867-1989 - From EDO to SHOWA - The Emergence of the World's Greatest City
di Edward Seidensticker

Tuttle Publ, 2019 - ISBN: 9784805315118, 636 pag., 13x20,5x4.5 cm.
Edward Seidensticker's A History of Tokyo 1867-1989 tells the fascinating story of Tokyo's transformation from the Shogun's capital in an isolated Japan to the largest and the most modern city in the world. With the same scholarship and sparkling style that won him admiration as the foremost translator of great works of Japanese literature, Seidensticker offers the reader his brilliant vision of an entire society suddenly wrenched from an ancient feudal past into the modern world in a few short decades, and the enormous stresses and strains that this brought with it.
Originally published as two volumes, Seidensticker's masterful work is now available in a handy, single paperback volume. Whether you're a history buff or Tokyo-bound traveler looking to learn more, this insightful book offers a fascinating look at how the Tokyo that we know came to be.
This edition contains an introduction by Donald Richie, the acknowledged expert on Japanese culture who was a close personal friend of the author, and a preface by geographer Paul Waley that puts the book into perspective for modern readers.
---
この商品をシェアする
---
コレクション内の他の商品