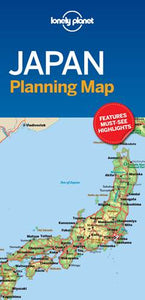 Tanabata
JAPAN Planning MAP
GB609
LONELY PLANET, 2018 - ISBN: 9781787014510 - aperta 63 x 50 cm
Durable and waterproof, with a handy slipcase and easy-fold format, Lonely Planet's Japan Planning Map helps you get around with ease.
Get more from your map and your trip with images and information about top country attractions, itinerary suggestions, a transport guide, planning information, themed lists and practical travel tips.
With this easy-to-use, full-colour map in your back pocket, you can truly get to the heart of Japan.
---
この商品をシェアする
---
コレクション内の他の商品